Dr Ben Ross - Medicinal Chemistry Research Group
A general theme of our research is medicinal chemistry, specifically the application of synthetic chemistry and molecular modeling to discover novel molecules with application as drugs or tools for research.
We are located within the School of Pharmacy at the Pharmacy Australia Centre of Excellence (PACE) on the PA Hospital site of The University of Queensland (UQ) in Brisbane, Australia. PACE is a state-of-the-art facility just a short trip from the UQ St Lucia campus via the Eleanor Schonell Bridge.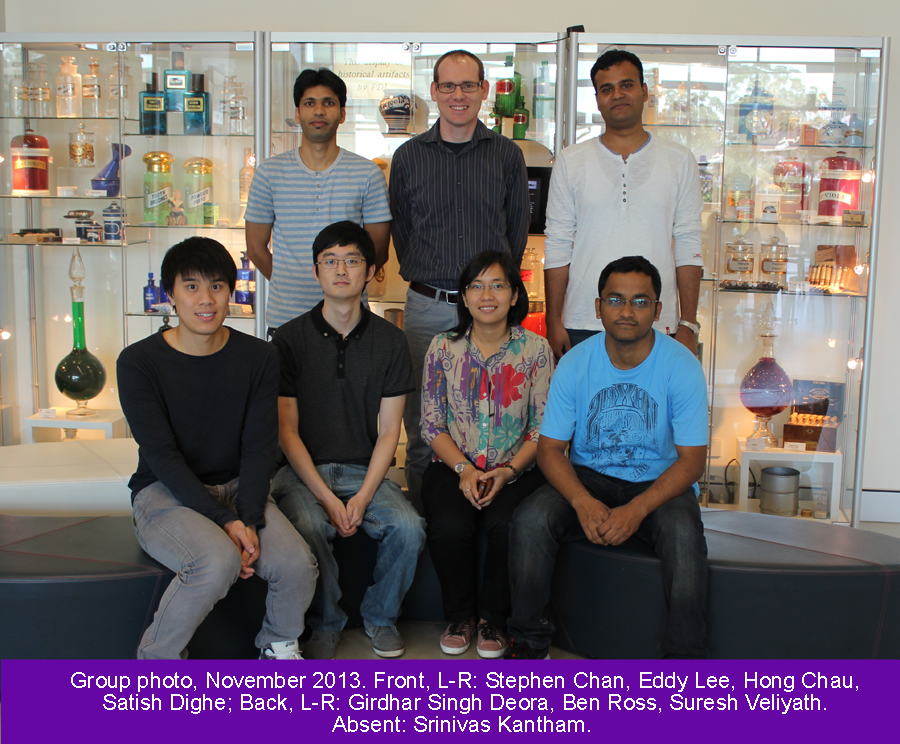 PhD vacancies - PhD opportunities
Australian and international students with backgrounds in chemistry, biochemistry, and pharmacy are encouraged to contact Dr Ross to discuss possible Honours or PhD projects and scholarships.
Sources of funding include: Australian Postgraduate Awards (APA); UQ Research Scholarships (UQRS); NHMRC Postgraduate Scholarships; International Postgraduate Research Scholarships (IPRS); UQ International Scholarships (UQI); Endeavour Scholarships and Fellowships; Malaysia Ministry of Higher Education (MOHE) Scholarships; Ministry of Education Saudi Arabia; and the China Scholarship Council (CSC), as well as many other funding schemes. Contact Dr Ross via email to discuss the best strategy to obtain a scholarship.
Latest News
2 April 2013: Welcome Mr Suresh Veliyath (PhD candidate). Suresh has a masters degree in pharmaceutical chemistry from Rajiv Gandhi University, Bangalore. He worked as a project assistant at the Indian Institute of Science (IISC) Bangalore and as a faculty member at MIPS Hyderabad, before joining the Ross Group. Suresh's PhD project is focused on AD drug discovery.
6 February 2013: Welcome Mr Girdhar Singh Deora (PhD candidate). Giri completed a MPharm from Rajiv Gandhi Technological University, Bhopal in 2009. Prior to joining the Ross Group, Giri worked as a research associate at Rajiv Gandhi Technological University (2010-11) and at Dr Reddy's Institute of Life Sciences, Hyderabad (2011-13). Giri's PhD project is in the field of AD drug discovery.
10 January 2013: Welcome Mr Edward Lee (PhD candidate). Eddy completed a BPharm (2010) and postgraduate honours (2012) degrees at UQ and he was awarded an APA scholarship for his PhD project to develop anti-viral nanoparticles.
1 November 2012: Welcome Mr Satish Dighe (PhD candidate). Satish was awarded an MPharm in 2009 from Pune University, and worked as a research chemist at Zydus-Cadila Healthcare Limited (2009-11; Ahmedabad) and as a research assistant at the Birla Institute of Techology and Science (2011-12; Pilani), before joining the Ross Group. The topic of Satish's PhD project is AD drug discovery.
3 July 2012: Welcome Mr Srinivas Kantham (PhD candidate) who is funded by a prestigious Prime Minister's Australia Asia Incoming Postgraduate Award. For his PhD Srinivas is developing polyphenols as disease-modifying drugs for AD. Previously he worked as a research assistant at the Indian Institute of Chemical Technology (IICT) Hyderabad.